More than meets the eye
Let your eyes follow the rim of the rounded shapes.
See the softness, sense how the cover carefully encapsulates the technology inside. Your first time with Oslo will touch your eyes and open your senses. The vivid colours, the surprising texture, the sensation that there's much more below the surface. The embroidered volume-buttons at the front, hinting: I am a loudspeaker. Inviting you to approach, explore, discover.
NEW OSLO SLATE BLACK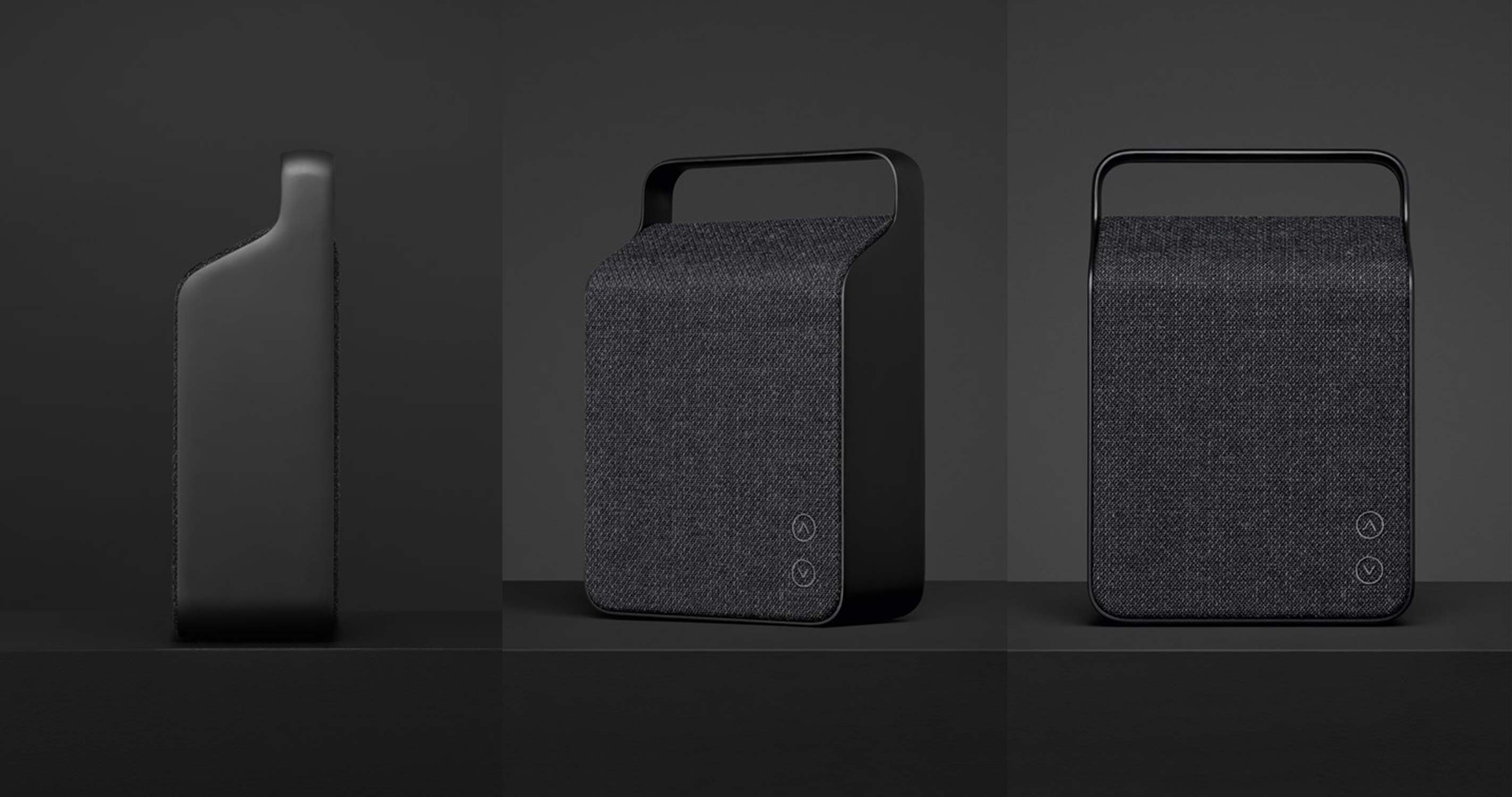 Close your eyes in order to see
On a recent trip to the US, I bought Bob Dylan's Original Mono Recordings. A complete compilation of his first eight albums in a remarkable sound quality. When I got home I spent an entire evening sitting on the floor in my living room, listening to the vinyls. It was just … you know, it's physical what great sound does to you. A sort of whoosh when it touches you.
That sound on those records was so unique. You felt like you were actually there, at the Columbia Studios, just in front of Bob and his guitar. It was ... well. It was what music should always be like. It was true, authentic sound in all its splendour.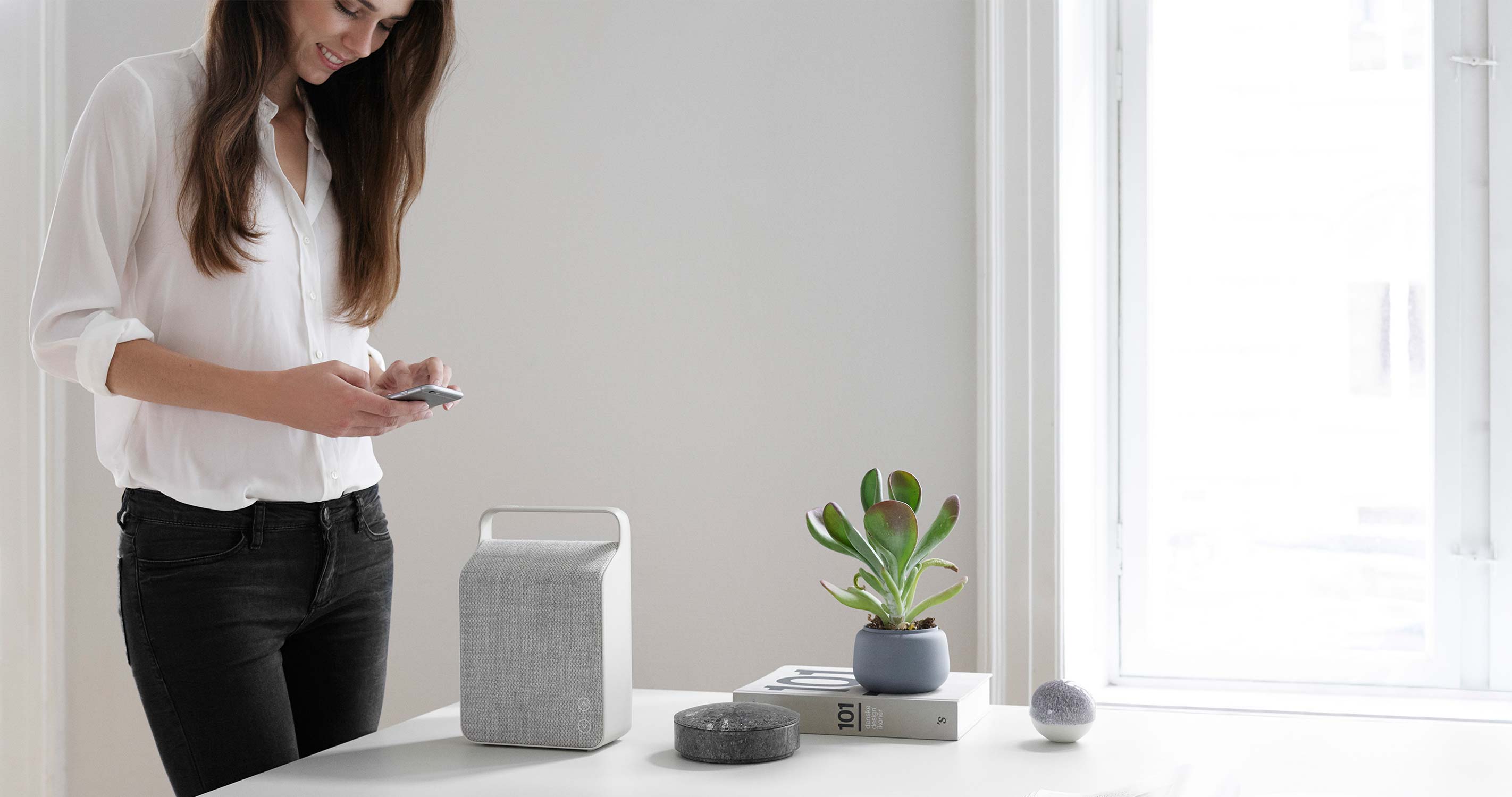 IF GOLD AWARD
The Oslo loudspeaker just received the extremely prestigious iF GOLD AWARD for its outstanding design.
"The Danish-designed Vifa Oslo is a gorgeously appointed Bluetooth speaker that will look great in your living room: the perfect link between technology, sound quality and long-lasting design. The soft and well-formed handle extends in a single stroke from the speaker body, while upholstery-grade fabric covers the rest of the unit. The interface is hidden. Nothing more and nothing less!"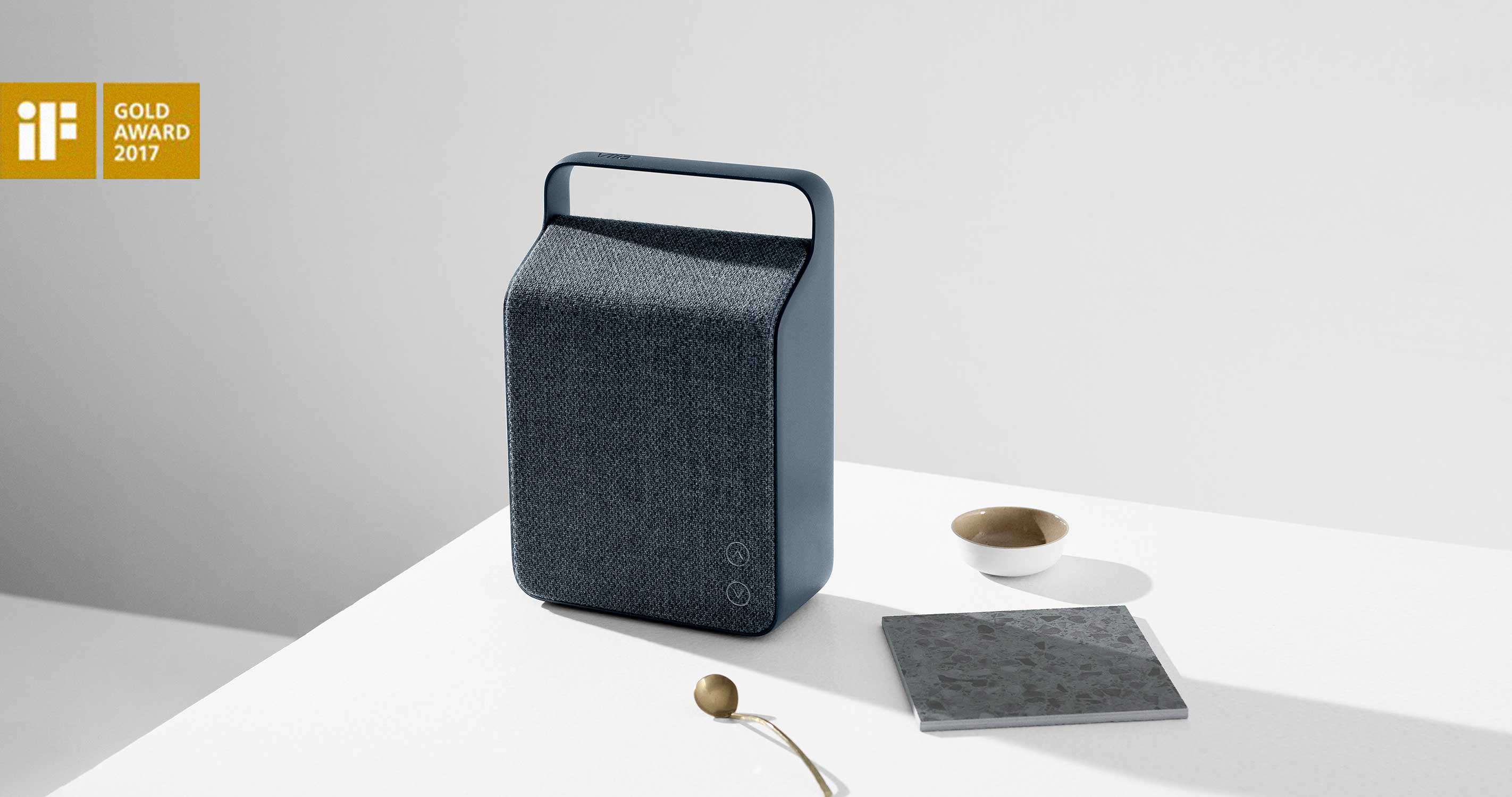 Perfect Imperfection
A soft texture. A warm touch. The surprising feel of Oslo comes from its wool cover. Selected yarns carefully woven into a specific pattern, designed by Kvadrat.
Reflection and intuition accompanied the entire work process during which Kvadrat translated their tactile knowledge to the domain of sound. Numerous hours and heaps of rough, smooth, bulky or silky weaving samples later, the fabric created is essential to the entire product experience. It appeals to the eye, the ears and your fingertips. Wool is perfect natural imperfection; it's comfort and coziness; it's a reassuring, basic feel. A universal material, revered through time for its resistance and the way it ages beautifully.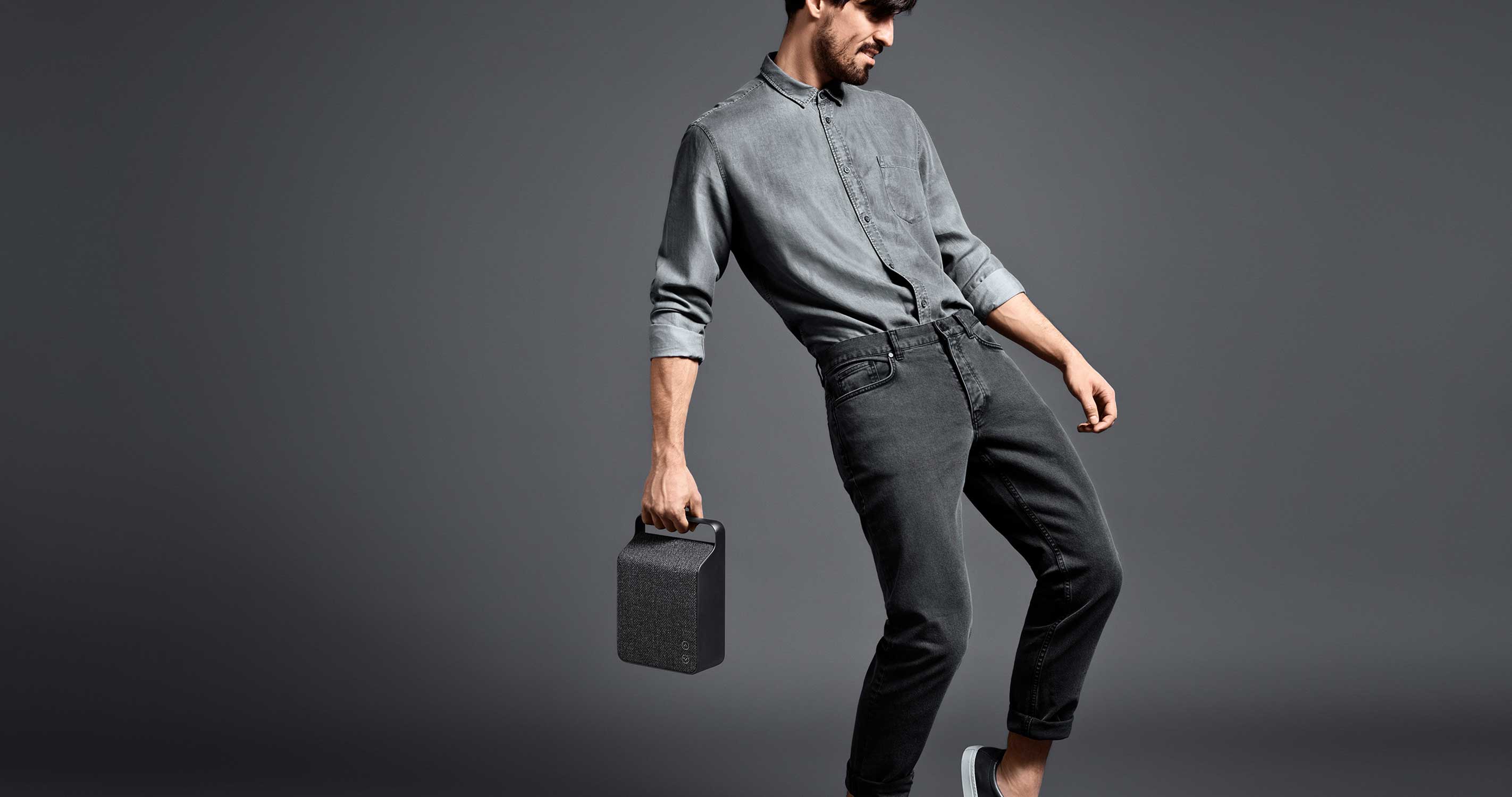 The Essentials
The things you cherish the most. From mere everyday basics, they grow over time, becoming your indispensable travel companions through life. How come? No one can say. You just know it when it's there: It simply feels right.
Inside out

PRODUCT SUPPORT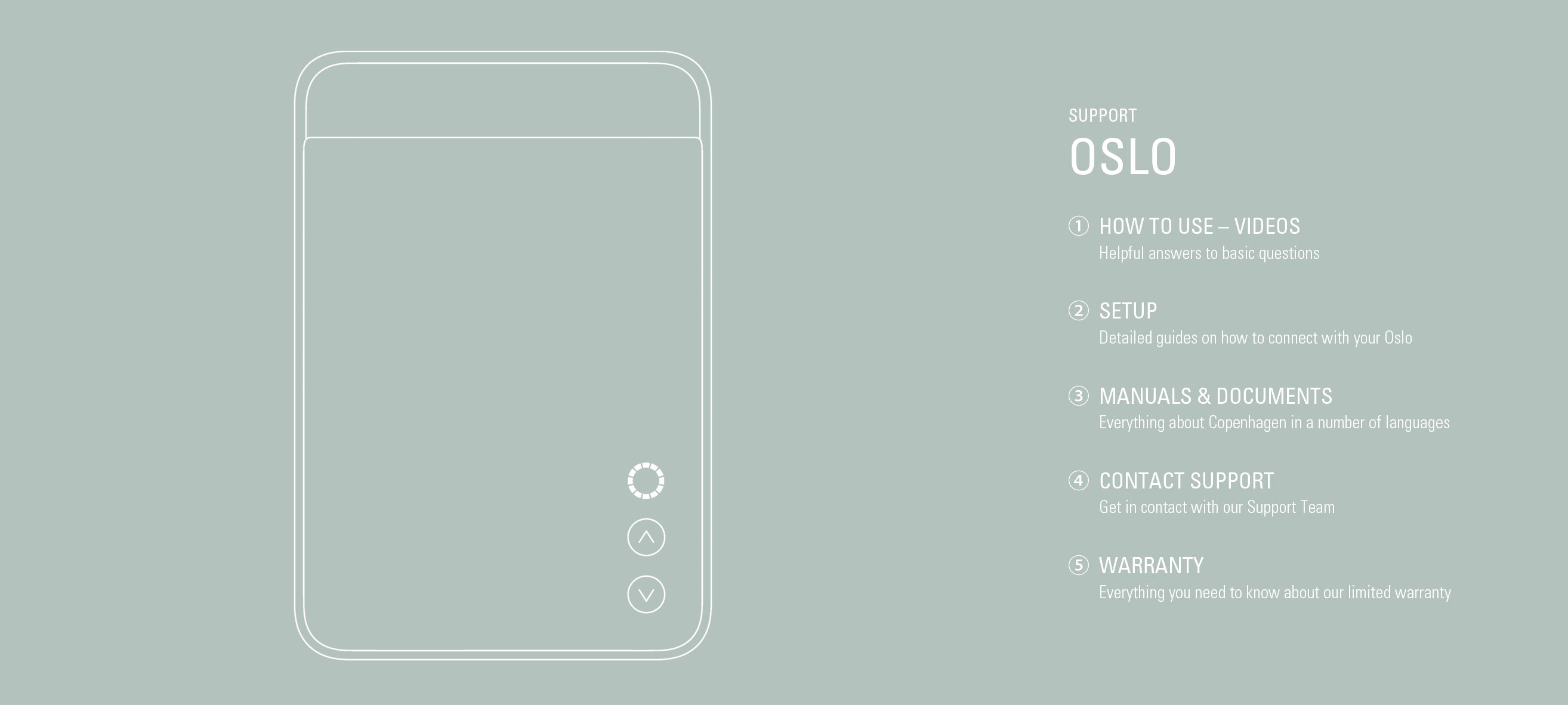 Dimensions
268 mm/181 mm/90 mm


COLORS
Pebble Grey / Sand Yellow / Mountain Blue / Pine Green / Slate Black

CONNECTIVITY
Bluetooth 4.1 / AUX 3.5 mm mini-jack / NFC
BATTERY
Rechargeable Lithium battery

MATERIALS
Frame/One piece diecast aluminium / Enclosure/Polycarbonate
Grills/Custom made Kvadrat textile
DRIVE UNITS
Fullrange
2 x 50 mm Vifa unit with aluminium cone and neodymium magnet

Woofer
2 x 80 mm Vifa units with flat sandwich cone and neodymium magnet. Mounted mechanically back to back in a force balanced configuration supported by 2 passive radiators
FREQUENCY RESPONSE
55Hz-20kHz

TECHNICAL FEATURES
Bluetooth aptX / Lithium Ion battery / Force Balanced Woofers
Digital pure path amplifier / DSP crossover optimized for low distortion and high precision

IN THE BOX
Vifa Oslo, power supply, AUX 3.5 mm mini jack cable, travel bag, manual, quickguide & warranty.